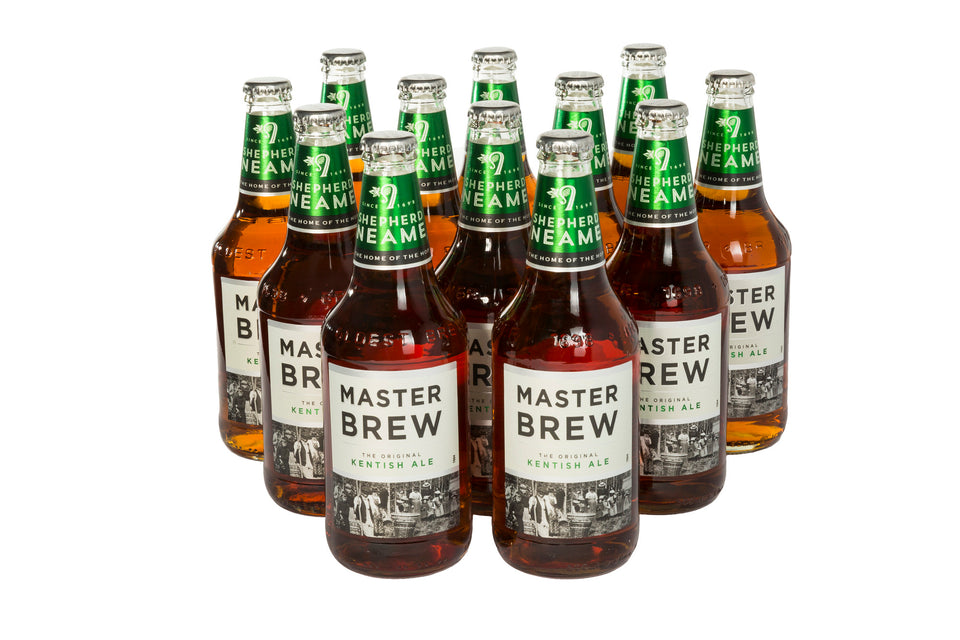 Master Brew
10057
ABV 4.0%  |  2.0 UK Units / Bottle
Master Brew is brewed using only the finest Kentish barley and hops.
The "Local Hero" is a distinctive, mid-brown bitter ale, with all the hoppy aroma you would expect of a beer brewed in the heart of the hop country.

Tasting Notes:
" Delicate and devilishly drinkable, this quintessentially Kentish ale lays the county's hallowed, herbaceous hops on a firm, biscuity bed of pale and crystal malt. Endowed with an inviting auburn-amber hue and a tantalising toffee-ish aroma, it's an enlivening English ale that, given its unassuming ABV, pleasures the palate with a remarkable fullness of flavour." 
------
Special Offer
Buy 2 or more selected Ales and we will send you a Spitfire Bottle Opener free of charge. T&C's apply. Click here for more information.

Delivery Information
Ordering as a Gift?
Next Day Delivery is just £6 or FREE for orders over £50 to 1 UK mainland address *
Orders placed by 12pm Monday to Friday (excluding Bank Holidays) will usually be dispatched the same day, on a Next Day delivery service via courier. Please note, this may be subject to delay during busy periods.
Deliveries can arrive any time up to 6pm Monday to Saturday (excluding Bank Holidays), and cannot be left in a safe place as they will require a name as proof of delivery, and age verification to confirm the recipient is over 18+
You should receive a message from our couriers with an estimated 2 hour delivery window on the day of delivery. Please note: Delivery time frames are not guaranteed. In some cases, orders may be split with goods arriving on separate days.
--- --- ---
Northern Ireland and International Orders
Unfortunately we are currently unable to ship alcohol outside of mainland UK.
If ordering as a gift for a friend or loved one, please feel free to add a note in the 'gift message' box displayed in the cart section before the checkout.
We will then lovingly print your message and add to the box for you completely free of charge.
For added peace of mind, we never include invoices or any paperwork displaying prices with our orders.